Specifications
Phophoric acid 85%
With 13years histroy
Good Quality with best price,
ISO2001 Certfication & BV Certificate
Phosphoric Acid Important
Codes
| | |
| --- | --- |
| Product Name | Phosphoric Acid |
| MODEL NO | CC-PA75/CC-PA85 |
| CAS NO | 7664-38-2 |
| HS Code | 2809201100 |
| EINECS NO | 231-633-2 |
| Formular | H3PO4 |
The following is the show of packing, transport and factory condition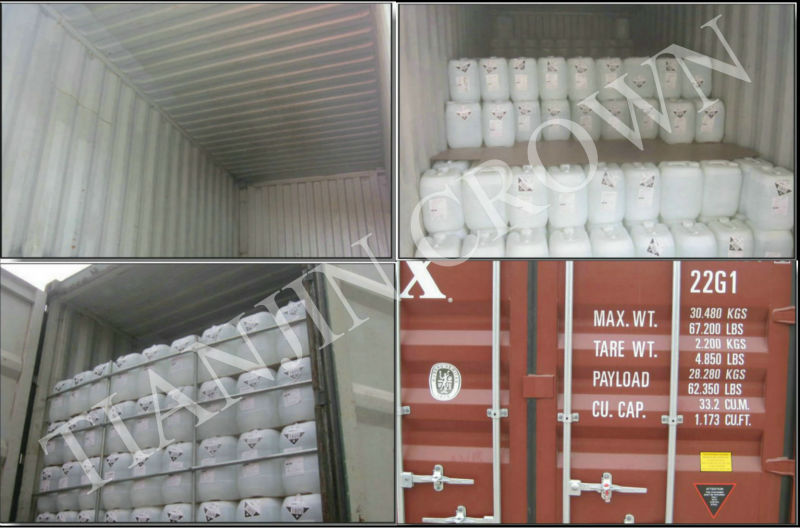 Phosphoric Acid Specification
Items

Standard

(75%Food grade)

Results

(75%Food grade)

Standard

(75%Food grade)

Results

(85%Food grade)

Colour

Apha No 20 Max

10

Apha No 20 Max

10

Concentration (H3PO4)

75% Min

75.20%

85% Min

85.20%

Iron as Fe

20 ppm Max

7 ppm

20 ppm Max

7 ppm

Arsenic

0.5 ppm Max

0.1 ppm

0.5 ppm Max

0.2 ppm

Chloride

5 ppm Max

3 ppm

5 ppm Max

3 ppm

Sulphate

30 ppm Max

10 ppm

30 ppm Max

12 ppm

Heavy Metal as Pb

5 ppm Max

3 ppm

5 ppm Max

3 ppm

H3PO3

120 ppm Max

50 ppm

120 ppm Max

50 ppm

Fluoride

10 ppm Max

3.5 ppm

10 ppm Max

3.5 ppm

Cadmium

-

0.2 ppm

-

0.2 ppm

Hg

-

0,02 ppm

-

0,02 ppm

Lead

-

0.4 ppm

-

0.4 ppm

Nitrates

-

5 ppm

-

5 ppm

Volatile Acids

-

10 ppm

-

10 ppm

Specific Gravity @ 20℃

-

1.58

-

1.68

Calcium

-

1.65 ppm

-

1.65 ppm

Potassium

-

0.05 ppm

-

0.05 ppm

Zinc

-

0.16 ppm

-

0.16 ppm
Phosphoric Aacid Application
Phosphoric acid is mainly used in the manufacture of various phosphate, such as ammonium phosphate, potassium dihydrogen phosphate, disodium hydrogen phosphate, trisodium phosphate, etc and condensation phosphate class.
1, In medical field, phosphoric acid is used in the manufacture of glycerin sodium phosphate, iron phosphate. At the same time, as an etching solution, phosphoric acid is to used to clean and roughen the surfaces of teeth where dental appliances or fillings will be placed. Phosphoric acid is also used in many teeth whiteners to eliminate plaque that may be on the teeth before application.
2, Food-grade phosphoric acid (additive E338) is used to acidify foods and beverages such as various colas because of its sour intensity.
3, In the industrial field, phosphoric acid is an important commodity. It is safer and less potent than muriatic acid, will effectively clean a broad range of surfaces, including concrete and other types of masonry. Otherwise, pure liquid phosphoric acid is used as the electrolyte in phosphoric acid fuel cells.
4, In feed field, phosphoric acid is used to make chemical fertilizer as calcium hydrogen phosphate.
5, In electronics industry, the semiconductor industry use a lot of InP, GaP and phosphide and GaAs InAs or the solid solution, used kH2PO4 and AlPO4 as a piezoelectric crystal, and high purity phosphine as dopant.